Harry Clifton Gibbons – seed merchant
Harry was born in Lincoln, England and came to New Zealand in 1884, aged 23. For many years was in the seed business on Lambton Quay trading as 'H C Gibbons & Co'. The Lambton Quay shop contained 2000 sq ft of floor space. He also had fifteen acres of nurseries in the Hutt Valley to supply the shop with fruit, ornamental and shelter trees. They had regular shipments of Japanese bulbs and were extensive importers of 'British and Foreign Seeds'.
He married Annie Elizabeth Young in 1890. Their daughters were Winifred Lucy, Alice Lumby and Rhoda Gertrude.
Their sons were Edward and Walter Jefferies. Sadly both died in WWI fighting in France. Walter died on 30th September 1916. In his last letter to his parents, which was received a few days after news of his death arrived, he wrote 'I hope and request that if I go out none of you will not even put on black, as you may be certain I died happy and did my best'. Edward died on 12th September 1918. His leave was overdue but on account of the start of the Allies' great offensive, the leave was stopped.
In 1922, the Bishop of Wellington unveiled and dedicated a memorial window in St Michael and All Angels' church at Kelburn in memory of their two sons. Shortly after Harry & Annie departed with their daughters for an extended tour of Great Britain and Europe and to visit Harry's sister Mrs Turner who was a ranch owner in Ohio.
Annie died in 1937. Harry died in 1941 at their home in Upland Road, Kelburn. Both were cremated at Karori.
Harry's estate was worth £40,112. There was once a Harry Gibbons Street in Upper Hutt named after him.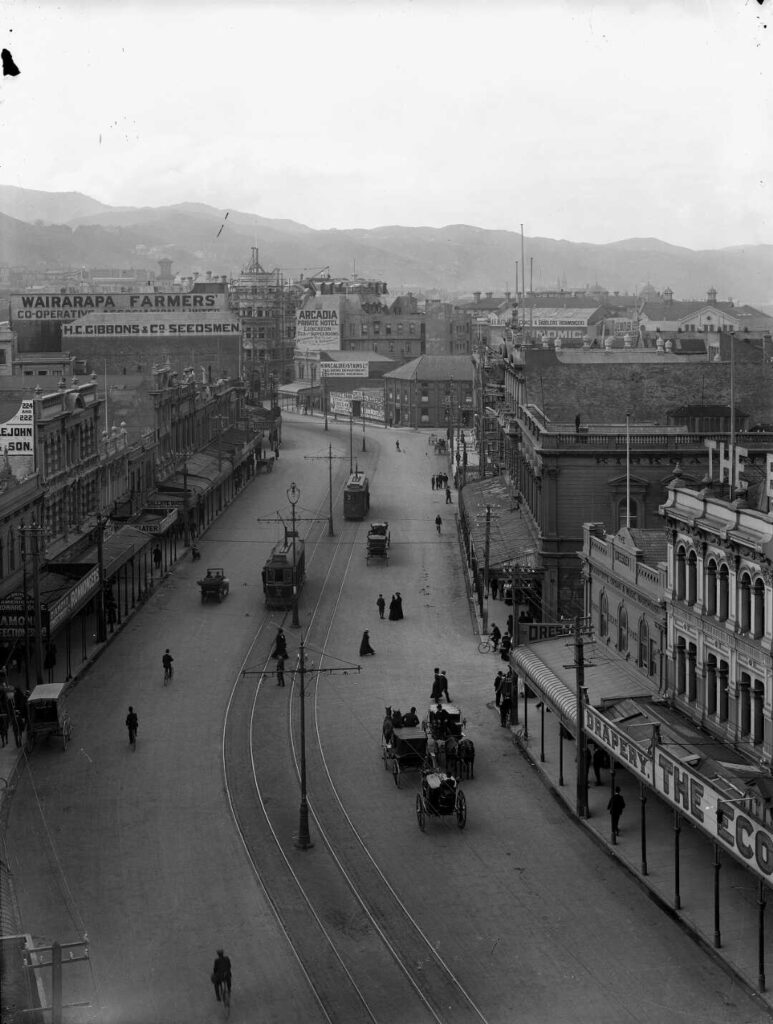 Lambton Quay. Photo courtesy of the Alexander Turnbull Library.