Claude Albert Curtis Woodford – served in WWI twice
Claude was 8 years old when his father died in 1895 (see previous story). He went to Sydney Street school and eventually became a draughtsman.
Claude attested on 9th August 1914, less than two weeks after the outbreak of war. At that point he was living in Farm Road, Northland with his mother and her cousins. He was at that time a storeman at British General Electric. He joined the 5th Wellington Regiment. By 29th August he was in Samoa where he suffered from dengue fever. In March 1915, he was suffering from ear trouble. As a consequence Claude was discharged from the army until he could receive treatment. He was awarded the 1914-15 Star.
He then became a self-employed military badge maker and he started a  hobby for breeding show dogs, winning the Fox Terrier novice class in 1915 with his dog named Good Stuff.
He reenlisted on 6 January 1917 and was promoted to Lance Corporal. By September he was in France where he joined the 2nd Battalion, Canterbury Regiment. He served in the field from 18 December 1917 until 7 March 1918 when he was detached to Headquarters. In September he had two weeks leave in the UK.
In April 1919 Claude married Mabel Agnes Shute in Portsmouth. He returned to New Zealand on the SS Ruapehu on 7 June 1919 which departed from Plymouth. We are not certain how Mabel travelled to New Zealand. He was formally discharged in August 1919. Their son Thomas was born on 21 August 1921.
By 1922, Claude's residence is recorded as the Hospital at Trentham. He died there on 21 January 1923 aged 35, from war injuries.
The funeral (which was a state charge) left Wilson's mortuary chapel for Karori Cemetery. The "Last Post" was sounded by trumpeter Major Chegwin. Among those present was Major Rockstrow, who represented the General Officer Commanding New Zealand Military Forces, and the Mayor representing the citizens of Wellington, Sir John Luke M.P., together with representatives from the Returned Services' Association, Women's National Reserve, Chamber of Commerce and Commercial Travellers' Association. Mr F Thompson represented the Messengers Department, Government Buildings where Claude used to work and the pall-bearers were four fellow-employees.
Plot Soldiers/K/20
Mabel died in 1969, aged 79, and her ashes were interred in the Woodford plot Ch Eng/E/19
Their son Thomas became a draughtsman like his father.
Read more about the 1914-15 Star here:
https://medals.navymuseum.co.nz/medal/the-1914-1915-star/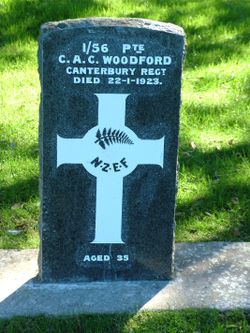 Photo courtesy of FindaGrave